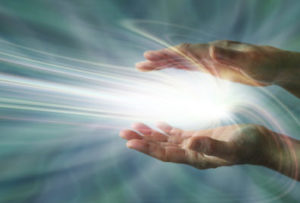 Healing Touch is an integrative healthcare method that supports patient-centered care. An evidence-based therapy, it is effective in reducing pain and anxiety with a gentle, noninvasive application.
Holistically focused, Healing Touch addresses the physical, emotional, mental and spiritual aspects of the individual. It is a biofield therapy that works to gently restore balance in the patient's energy system to support the body's natural self-healing process.
Healing Touch is not massage and is administered with the caregiver's hands gently near, or lightly touching, the patient's body while they are laying down or sitting up.
As a standardized, board-certified and nationally accredited continuing education program, Healing Touch Program offers nurses, physicians and other caregivers training in a professional integrative therapy that is widely used in hospitals, VA Medical Centers and other clinical settings. Based on nursing standards, Healing Touch integrates easily with standard medical care.
You will learn:
How the human energy field affects physical, mental, emotional and spiritual health
How to assess the energy field and energy centers
10 – 12 techniques that relieve physical and emotional pain, clears congestion and facilitates balance of the field which promotes healing of the mind-body-spirit
About the evidence-based research
Applications of Healing Touch in your personal and professional practice
Healing touch is:
Integrated in over 40 hospitals; Taught in over thirty countries
Endorsed by American and Canadian Holistic Nurses' Associations
Add this life-changing gift to your skills to help others as you deepen your personal and professional growth.
  WHO SHOULD ATTEND: all levels of health practitioners, caregivers of family members or friends and anyone interested in energy medicine.

Course offers 16 Continuing Education contact hours for nurses and massage therapists.
Date               Oct 7-8, 2017
Location:  Stanford Health Care – ValleyCare Medical Building
5725 W. Las Positas Blvd.  Suite 240 Pleasanton, CA 94588
Time:            8:30 a.m. to 6:00 p.m.
Tuition:       Early Bird by Sept 20 $345 (includes Level 1 Notebook)

After Sept 20 $365  (includes Level 1 Notebook)

You can reserve your place with a $100 deposit.
Balance due by Sept 20th for early bird  price or Oct 6 for full tuition price.
Click here to reserve your place:   



No refunds after Sept 22, 2017

Have questions or want to pay by check full?  Contact Laurie Ratto 510 381-3191 or email laurie@mindandbodymethod.com
Healing Touch Program is accredited as a provider of continuing nursing education by the American Nurses Credentialing Center's COA.  Healing Touch Program is approved by the National Certification Board for Therapeutic Massage & Bodywork (NCBTMB) as a continuing education Approved Provider (#150588-00).
INSTRUCTOR:  Laurie Ratto, RN, BSN, HTCP/I, CCA.   Laurie has over 35 years of nursing experience in acute care, home health and a private holistic practice.  She is passionate about teaching others healing touch so more people can be served.  She also helps clients to alleviate physical, emotional and mental pain.